About Me
More about
Toby
I am a creative solutions engineer with over 20 years of applied professional experience. Currently living and working out of Brisbane, Queensland.
My experience ranges from enterprise and government solutions through to rapid growth startups working with global brands including Apple, Google, Tesla, AirBnb, Microsoft, Humana and Blue Shield California.
Have been proud to be awarded patents on some of the more successful concepts.
From
Brisbane, QLD, Australia
Experience
My story so far...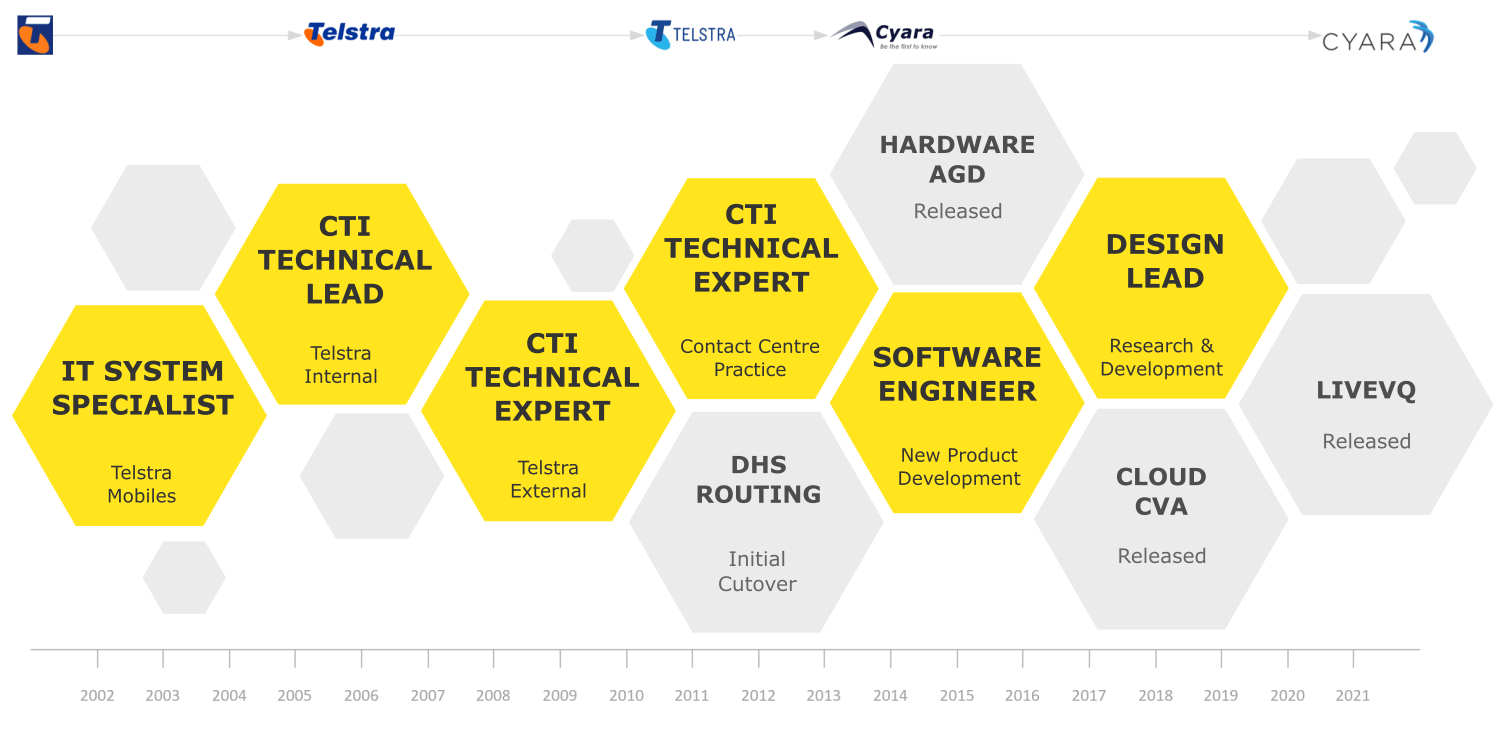 DESIGN LEAD @ Cyara
CYARA RESEARCH & DEVELOPMENT
September 2020 – Today
I am a senior member of a team that reports directly to the Chief Innovation Officer. I'm tasked primarily with researching new technologies that can be applied to address market problems, customer needs and to improve existing product offerings. This includes creating working prototypes to showcase feasibility. Working closely with product teams and designers to fully understand user behaviours and personas.
---
SOFTWARE ENGINEER @ Cyara
NEW PRODUCT DEVELOPMENT
December 2013 – September 2020
An early member of the Cyara organisation. Directly involved in new product development which now forms part of the core product offering of Cyara's enterprise customer experience testing solutions. This often meant working on non-deterministic tasks and creating solutions to problems not known to be solvable.
---
CTI TECHNICAL EXPERT @ Telstra
CONTACT CENTRE PRACTICE
April 2012 – December 2013
The contact centre practice was formed to provide high levels of expert experience in the Genesys CTI space to external clients. I was fortunate to be a part of the original team transitioning Services Australia (previously Department of Human Services) contact centre technology stack from multiple providers to Genesys under a Telstra managed service.
---
CTI TECHNICAL EXPERT @ Telstra
BUILD & ASSURANCE TELSTRA EXTERNAL
January 2007 – April 2012
---
CTI TECHNICAL LEAD @ Telstra
TELSTRA INTERNAL
June 2004 – January 2007
---
IT SYSTEM SPECIALIST @ Telstra
TELSTRA MOBILES
June 2002 – June 2004
My Skills + Certificates
Curiosity
Baseline Security Clearance
Automation & Testing
Agile Methodologies incl. SAFe
Cyara Guru Trained
Cloud Contact Centres
Genesys CTI
Amazon Connect
Twilio incl. Twilio Flex
WebRTC
AWS and Azure Platforms
.Net (primarily C#)
Node and .Net Core
JavaScript + Typescript
DBMSs
Document Databases
Interested in working on something together ?
I am currently curious to hear from interesting people on innovative thoughts and ideas...